Cruising is the best vacation value as meals and drinks onboard are included
* All-ocean view staterooms, * Views that change daily. * All meals and snacks on board
* Complimentary beverages * In-suite bar setup * Room Service * Staff gratuities
Paul Gauguin Cruise Ship review: This ship has been a true favorite of cruise fans from all over the globe, the destination is one of the most beautiful on the planet and a recent multi million renovation to the m/s Paul Gauguin has only enhanced the ambiance and appeal of this one of a kind ship. Upgrades and Renovations have taken place throughout the ship including new flooring and carpeting, the elegant new furniture and window treatments, providing a lighter, brighter feel throughout. All suites and staterooms feature new fabrics and the balconies now have teak railings.
The 332 passenger Paul Gauguin, cruise ship was named after the French post-Impressionist artist who lived and painted in Tahiti. Aboard you'll find constant reminders of his time in these Islands in the form of artwork, photographs and museum quality exhibits. The ship is the perfect size for passengers looking for relaxation, tranquility and pampering.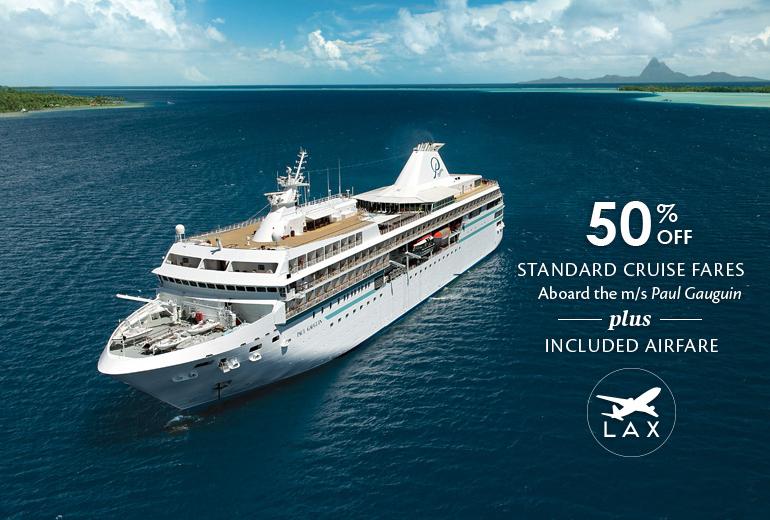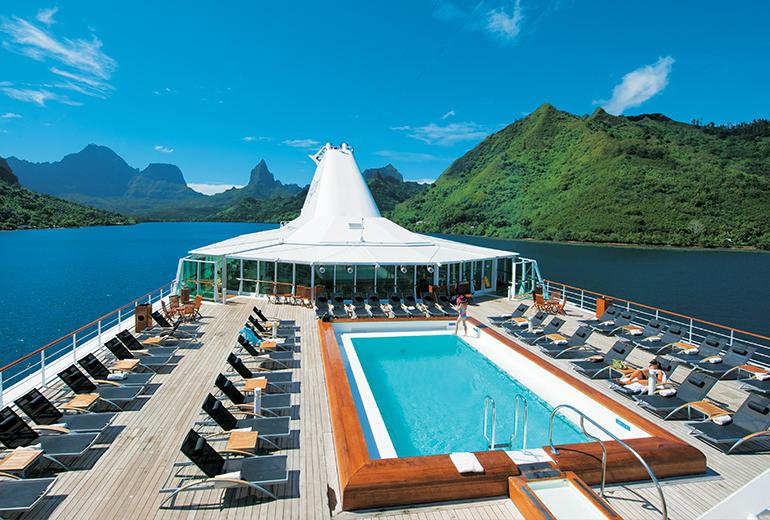 50% off standard cruise fares and included airfare from Los Angeles on all sailings aboard The Gauguin. Take advantage of this special offer on all our Tahiti, French Polynesia and the South Pacific voyages.
At Tahiti Only Travel we specialize in Tahiti Cruises.

We check to find additional savings & special cruise rates on select 2018 and 2019 sailings. Whether you are celebrating a special event or just taking a much needed vacation, our goal is to help make your cruise visit to these beautiful and romantic Islands an unforgettable experience .
We are a Tahiti Only specialist with 30 years of travel experience, we are located in Los Angeles CA where our Tour Operator, Paul Gauguin Cruises begins and ends all travel plans.
Please call or e-mail Steve Davies
Telephone: 818-970-1702
e-mail: sjdavies@tahitionly.com

open daily until 10:00 pm Pacific Standard Time
California CST registration # 2004402-40